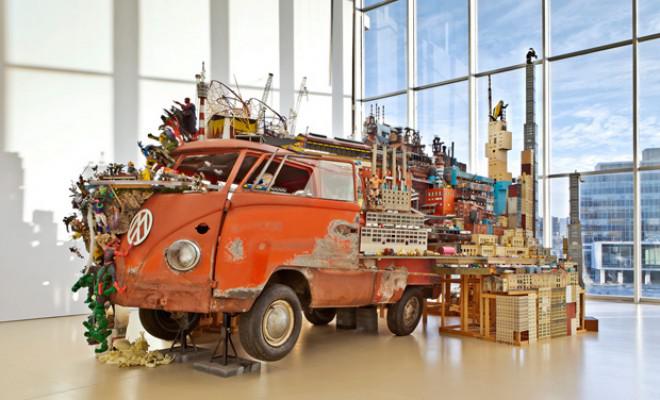 Born in Edmonton in 1951. Lives and works in Toronto and Grand Valley, Ontario.
Kim Adams is known for sculpture and installation works that appropriate readymade and prefabricated components such as model railroads, children's bicycles, farm equipment and life-sized automobiles in a manner that melds fantasy and reality. Working between human scale and the miniature, Adams re-imagines social structures and creates worlds that feature unexpected objects and networks for "buying, selling, living and leaving." Adams has twice participated in Toronto's Nuit Blanche, where he created memorable public works such as Toaster Work Wagon—a mobile concession vehicle featuring modified, double-headed bicycles—and Auto Lamp—a Dodge Ram punctured with swirling patterns and functioning, to many viewers, as a massive night light. Winner of the 2012 Gershon Iskowitz Prize, Adams has exhibited widely nationally and internationally. His work is held in major public collections across Canada including those of the Art Gallery of Hamilton, the MacKenzie Art Gallery, the Vancouver Art Gallery and the National Gallery of Canada. In 2013, Adams was awarded a Guggenheim Fellowship, while Museum London launched a touring survey of his work entitled "One for the Road." In 2014, Adams received a Governor General's Award in Visual and Media Arts.
Photo of Kim Adams's installation Breugel-Bosch Bus at the Art Gallery of Hamilton courtesy of the artist.